On April 17, 2018, Tammie Jo Shults (56 years old) safely landed on Boeing 737-700 after suffering an in-flight explosion in one of the engines of her aircraft. The case of Captain Shults, of the commercial airline Southwest Airlines, was praised for her professionalism and technical skill in extreme circumstances.
In the audio of radio communications with the Air Control Service (ATC) released after the accident, Shults' voice can be heard calmly describing the emergency unfolding at 30,000 feet altitude.
Figures of women in aviation
Although the precise numbers are constantly changing, statistics from the Federal Aviation Administration (FAA) indicate that 4.36 percent of all American pilots are women.
According to the latest statistics from the International Society of Women Airline Pilots (ISWAP), there are some 9,746 female airline pilots worldwide, representing 5.26 percent of active pilots on 34 major airlines.
India, leader in the incorporation of women into aviation
Eastern nation airlines employ the highest proportion of female pilots globally, accounting for 12.4% of their airline staff.
Zoom Air, a regional airline in that country, tops the leaderboard. According to ISWAP, this company employs nine female pilots out of a total of 30 pilots on its staff.
Kathy McCullough, ISWAP president of communications and retired captain, said Indian companies "have aggressively encouraged more women to become airline pilots as there is talk of a pilot shortage in the future."
In comparison, in absolute numbers, the North American Southwest Airlines is the company with the most female pilots on its staff, with a total of 393 women, but that figure represents only 4.07 percent of the total number of its pilots.
Another of the Indian companies with a high number of female pilots is IndiGo, with 351 female pilots, which represent 13.87 percent of the total technical crew of this operator.
Regions with fewer female pilots
The Middle East is home to some of the world's largest and most recognized airlines such as Emirates and Etihad, it still represents one of the most challenging regions for female pilots. According to ISWAP, the female group of pilots in that region represents only 2.05% of the total.
Despite that, several women have become pilots in recent years and some companies like Saudia are weighing the means to award scholarships to send women abroad to become commercial pilots.
Another region with a low number of female pilots -except for the case of India- is Asia, a region in which only 1.55 percent represent female pilots. Exceptions to this general trend are Cathay Dragon with 5.87 percent women and Cathay Pacific, with 4.27 percent.
12% presence in two years. That objective was reached in the first year, which is why the company has set itself the goal of reaching 20% ​​of female pilots by 2020.
And in Spain, what?
Female aviators account for only 3.5% of the total number of pilots in Spain. The Spanish Union of Airline Pilots (SEPLA) has only 200 affiliated women compared to more than 5,000 men. A very low figure that EAS BARCELONA, with about twenty pilot students currently, we have begun to modify.
However, throughout history we have had illustrious pioneers, such as Mari Pepa Colomer (Barcelona, ​​March 31, 1913 – Surrey, England, May 25, 2004), who obtained the first official pilot's license in 1931 and She was the first female flight instructor in Spain. A whole legend!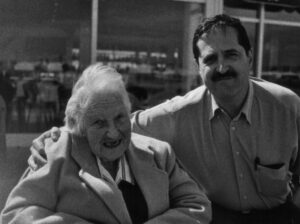 Do you want to train as an airplane pilot? Complete our form here.
https://easbcn.com/wp-content/uploads/2020/03/Foto-2.jpg
1730
2312
Jorge Boreadas
https://easbcn.com/wp-content/uploads/2018/01/EAS-Escuela-de-pilotos-en-Barcelona.png
Jorge Boreadas
2020-03-23 10:57:04
2020-03-25 11:03:45
Female pilots: Which airline has the highest number?